SEO is an important part of a site, to display the site, and products, and rising the site ranking, we need SEO for the site. In this article, we explain what SEO is?
But before that, we need to know whether we need a certain extension for SEO or not? In answer to this question, I must say yes, we need.
Magento 2 SEO Extension, like any other plugin, is supposed to add some features that aren't anticipated in the core of Magento.
But SEO plugins help you don't miss the many details and settings that can help improve the rank of your site in search engines.
Related posts: What is Magento?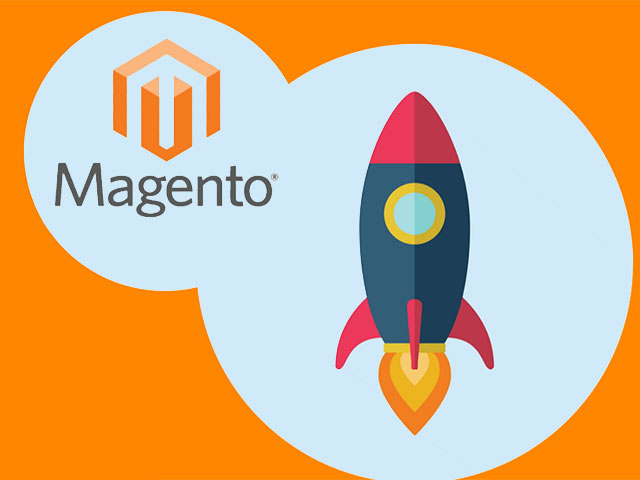 What is SEO?
SEO is derived from the term Search Engine Optimization, which has equivalent words such as SEO or search engine optimization, which all have the same meaning and can be defined as follows:
SEO (search engine optimization) does not mean cheating or manipulating search engines with unethical methods. They are designed to help improve the visibility and relevance of websites in natural search results with the aim of achieving high rankings.
Related posts: Introducing 7 of the best Magento blog Extensions
SEO can be considered as a set of methods for strategically changing websites.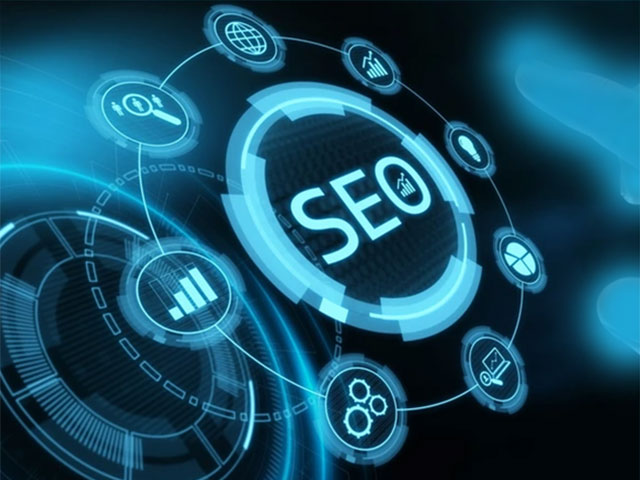 SEO is not a simple process that be easy to implement because it requires a lot of background knowledge, and patience. Search engines are unpredictable with the constant change of their ranking algorithms; Therefore, it is the duty of SEO engineers to keep their information up to date.
Related posts: Best Magento 2 extensions 2023
Google's ranking algorithm has more than 200 criteria for ranking a site. Therefore, SEO engineers should consider the most important of these criteria for successful SEO implementation.
The best Magento 2 SEO Extensions
There are many Extensions for Magento SEO. We will introduce you to some of the best Magento SEO Extensions below.
Related posts: 6 Great Magento Store Themes
SEO Toolkit
SEO Toolkit is an all-in-one Magento 2 extension that is designed to make your store take top positions in Google Search. Drive more organic traffic while saving money on paid ads. Maximize your SEO effectiveness by getting full control over every feature that is related to SEO.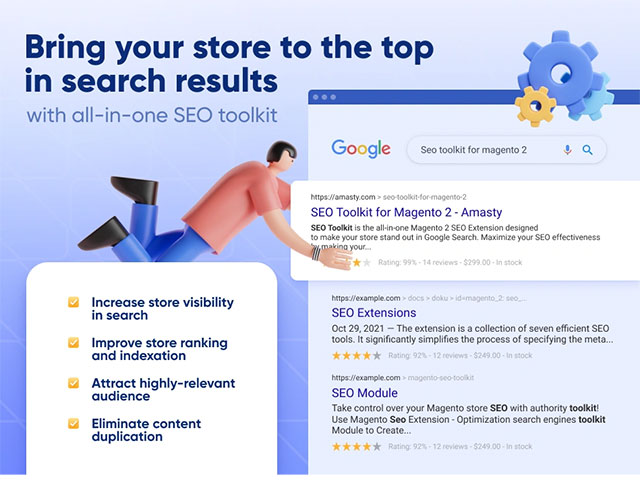 Eliminate duplicate content with unique product URLs

Show more information in search with rich snippets

Mass-optimize pages meta values with SEO templates

Monitor any page's SEO health with a handy toolbar

Replace any targeted keywords with some links that are cross, automatically

Enhance store indexation with HTML and XML sitemaps

Avoid broken links with smart redirects
Buy Magento SEO Extension $299
Magento SEO extension
Magento 2 SEO Extension has a bundle of outstanding features that are auto-active when you install it without any code modifications. It is also friendly with your store if you need to insert meta keywords and meta descriptions for your product. It will perform perfectly to better your SEO.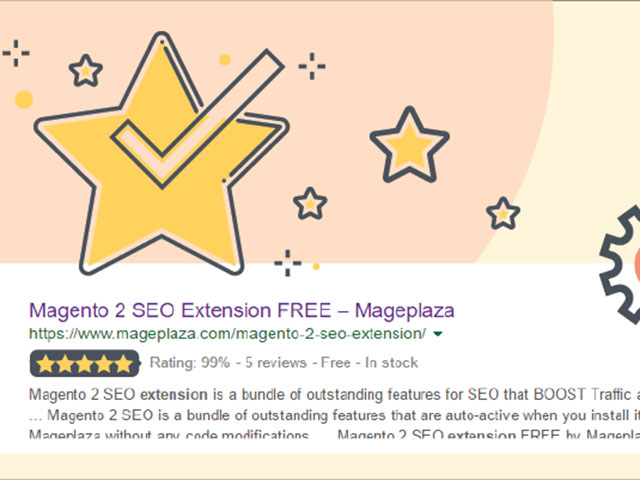 Preventing the duplicate content problem

Structured data for SEO

SEO Metadata template rules

Hreflang tag and SEO Report

Page Analysis (Rich Snippets preview)

Advanced HTML/XML sitemaps

Link alternate tag

SEO checklist and Cross-links
SEO Suite Ultimate extension for Magento
Ease the pain of adding/ editing/ managing MetaData for multiple store pages. Automatically add UNIQUE Meta Tags for product pages.
Product Templates will help you automatically optimize an unlimited number of product meta titles, meta descriptions, URL keys, short and long descriptions, meta keywords, alt tags of product images, and product SEO name (H 1) tags. All you need is a list of your product attributes.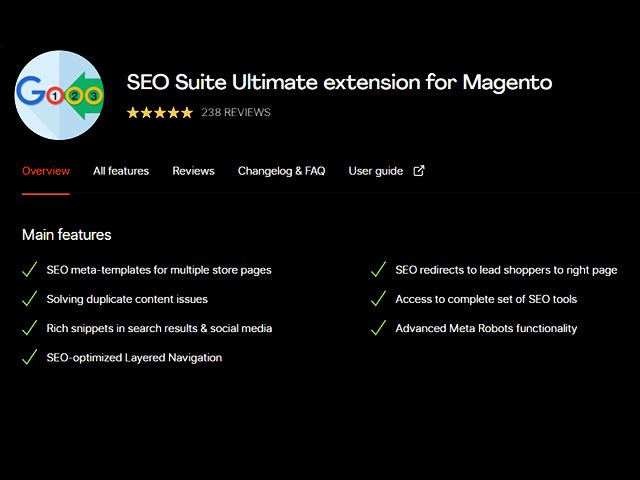 Main features of SEO Suite Ultimate extension
SEO meta-templates for multiple store pages

Solving duplicate content issues

Rich snippets in search results & social media

SEO-optimized Layered Navigation

SEO redirects to lead shoppers to the right page

Access to a complete set of SEO tools

Advanced Meta Robots functionality
Magento 2 seo Extension
From meta tags to the sitemap, the Magento 2 Advanced SEO Suite gives you full control over each and every SEO-related feature in your store.
This extension is an SEO powerhouse that provides major enhancements to all pages of any online shop.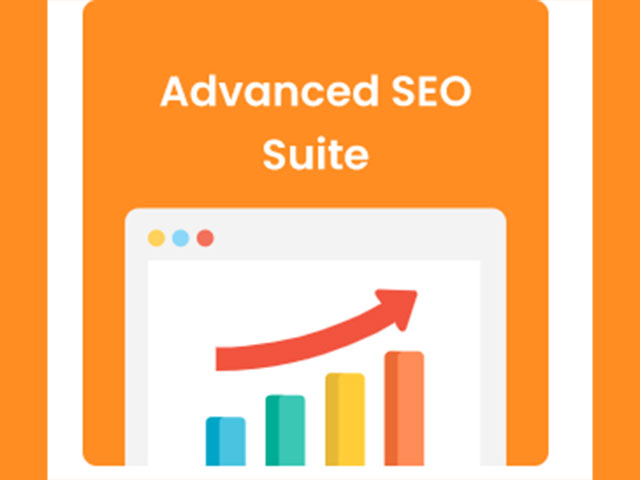 This amazing package will save you an incredible amount of time and money, all while securing your site's place at the top of the search results!
Boost Google search rankings of your store

Enhance the search results with rich snippets

Make your URLs SEO mobile-friendly

Generate an advanced sitemap for Google

Check SEO health of any page in real time
Magento SEO Extension
Improves technical SEO of Magento 2 (Adobe commerce) e-commerce also boosts organic traffic by 95%.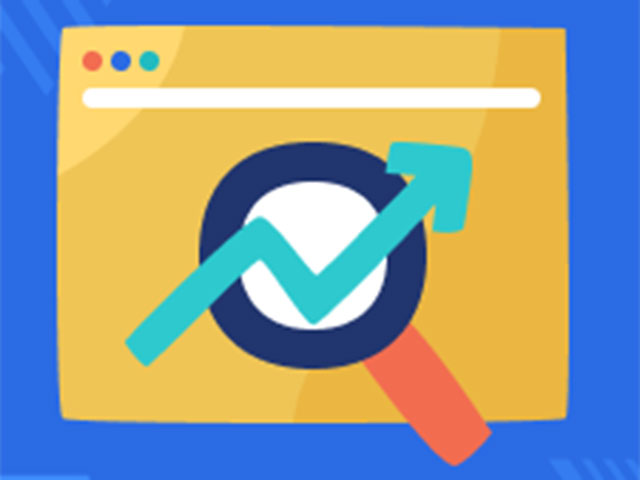 Improves On-page SEO (SEO meter).

Automatic Multiple XML Sitemap, compatible with google search console & Bing.

Support multilingual and international SEO (Hreflang attribute).

Structured data implementation (rich snippet) using JSON-LD.

Support social media Open graph meta tags (Facebook, Twitter).

Robots.txt generation and Optimization.

SERP preview of meta title & description (web and mobile).

Site link search box.

Permanent redirect 301, error logs (404) notifications.

Improve "page experience" and core web vital

HTML sitemap to improve the crawling of all web pages.

Ping services for search crawlers to update the content instantly.
Super Easy SEO
Improve search optimization and performance in online visibility.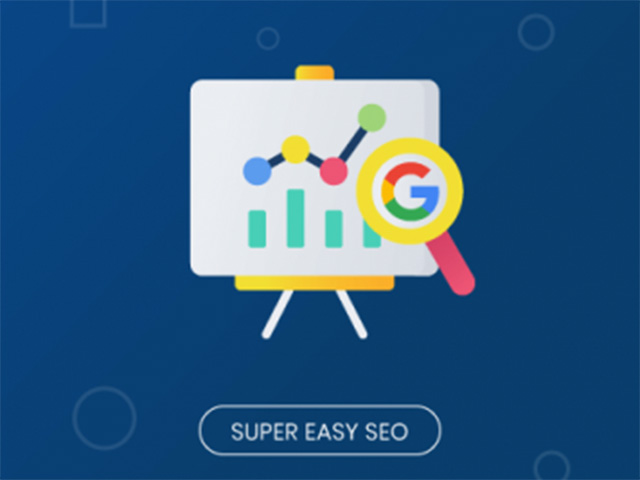 Meta tag for multiple pages

Content analysis toolkit

SEO data live preview

Many other unique SEO features
Magento 2 Rich Snippets
Raise the SEO game of your store to the next level with the WeltPixel Magento 2 Rich Snippets extension, by adding Rich Snippets for Google, Twitter Cards, Facebook Open Graph, and even Pinterest Rich Pins. Increase your Google Search ranking and make sure your users can identify specifics about your website and products with optimized Structured Data.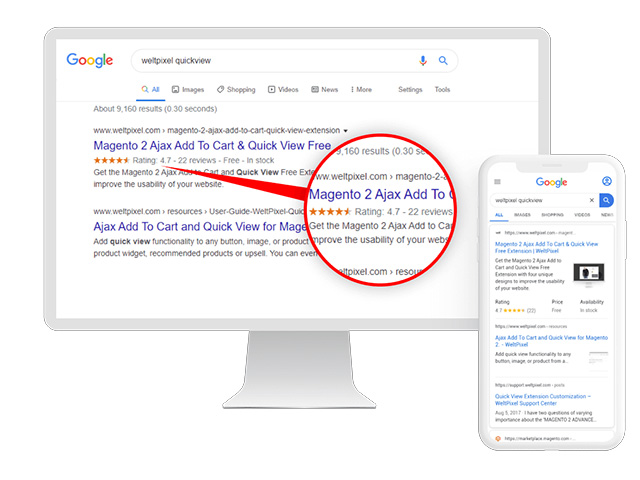 Product Name Structured Data

Product Image Structured Data

Advanced Price Control (Tax, Special Price) Structured Data

Availability Structured Data

Description (Long / Short Description) Structured Data

The brand – selectable brand structured data

SKU – Control over the SKU attribute

Google Cards

Twitter Cards

Pinterest Rich Pins

Aggregate review rating (show overall review score and number)

Facebook Open Graph for Product Pages

Facebook Open Graph for CMS Pages

Configurable Products – Send associated Simple Product price

Choose image type and size to send via structured data

Reviews (Author, message, review name, date, rating)

Item Condition – New / Damaged / Refurbished / Used

Breadcrumbs – website hierarchy structured data

Display full breadcrumb path on Product Pages

Sitelinks Searchbox – expose your search box in Google Search

Rich Snippets Logo (Use store logo or upload a new logo)

Corporate Contact – structured data for company contact

10 Social Profiles – display your social profiles in search results

GTIN – product GTIN code structured data

MPN – product MPN code structured data

1 Minute Installation GUI

1 Month free support included
Ultimate SEO Suite
Ultimate SEO Suite adds canonical links to the head of each product page, sitemap, and Google sitemap.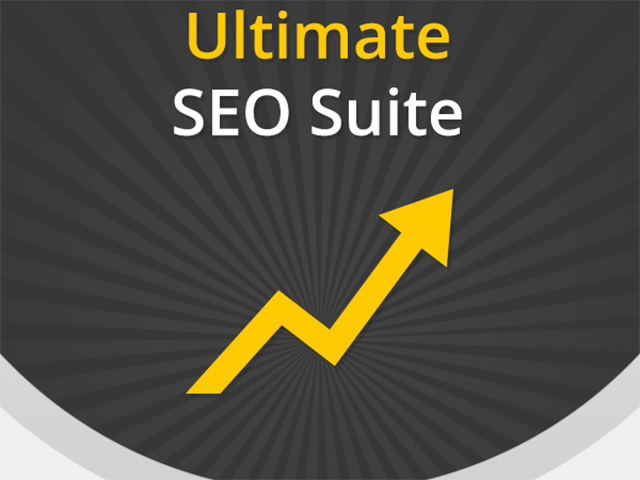 Search engines avoid crawling pages more than once

The best insurance to have your pages found by engines

Large sitemaps split into smaller files to get by Google

Current extension version: 1.3.8
SEO Suite Ultimate extension for Magento 2
Main features
SEO templates to mass-optimize ANY meta values

XML & HTML sitemaps for improved crawling & indexation

Automatic cross-linking for coherent site architecture

Advanced rich snippets to boost site CTR and visibility

Built-in SEO reports to detect & solve critical SEO issues

Extended breadcrumbs for enhanced on-site navigation

Canonical URLs to eliminate duplicate content

Layered navigation for better access to the filter pages

Automatic redirects to avoid deleted/404 pages

GraphQL API support for easy integration with PWA storefronts

Compatible with Magento 2 Venia PWA theme
Magento SEO PLUS – All In One SEO Magento Extension
Magento itself comes packed with lots of SEO modules out of the box but to make it rock solid you need to have advanced SEO features to boost your store's ranking, improve online visibility, help search engines to index and rank pages, optimize for specific keywords, remove duplicate content issues, etc.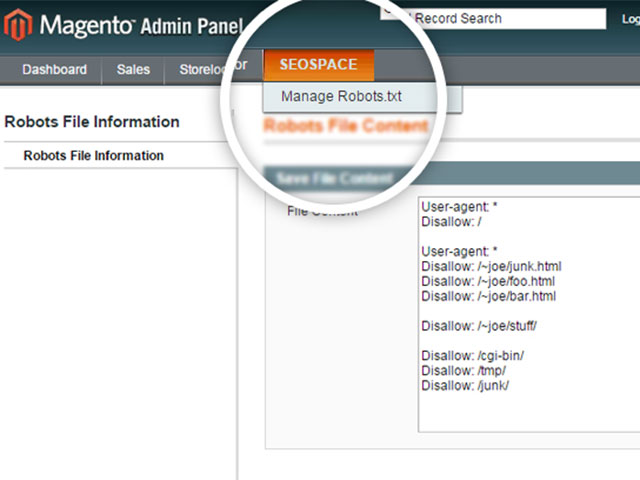 Templates for product & Category Pages
Optimize an unlimited number of product meta titles, meta descriptions, and meta keywords dynamically for your products & category pages using the SEO Plus Magento extension.
Get Rid of Duplicate Content
SEO Plus Magento extension lets you tackle duplicate content issues with the help of fine-tuned canonical meta tags. So you can enhance the SEO potential of your E-store and attain maximum traffic without blocking different page URLs.
Advance HTML & XML Sitemap
Make your website easier to navigate, better crawled & more efficiently indexed with HTML or XML sitemap. SEO Plus Extension can do this for you easily.
Magento 2 SEO Suite Ultimate Extension
Magento 2 SEO Suite Ultimate is the all-in-one solution for your Magento SEO needs. It allows you to improve your store positions in SERP, boost ranking, increase traffic, optimize website visibility in search and get more revenue.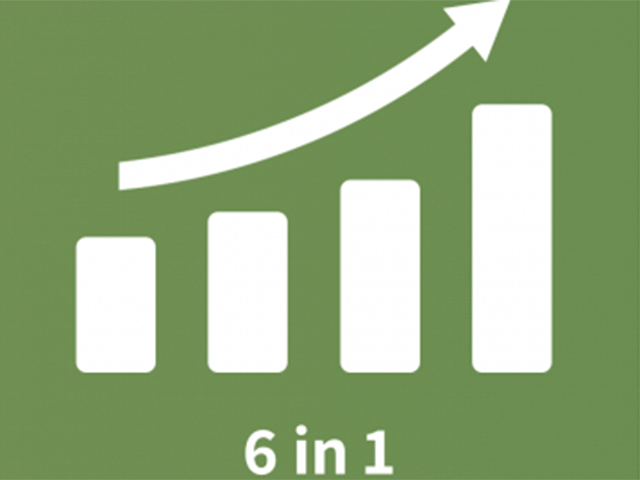 Magento SEO Suite as a bundle of 6 separate Magento 2 extensions helps you to automate Magento search engine optimization and improve your store in a few clicks.
Elevate SEO Automation
Magento SEO is a complex concept that requires learning, practice, and constant monitoring to get results. To improve website navigation, set rich snippets markup, create metadata and conduct multiple other SEO-related tasks you need to delegate these tasks to different people.
But not with the Magefan SEO Ultimate Extension for Magento. It allows you to automate Magento SEO and manage it from one place with little effort required.
Improve Overall Search CTR
Your website traffic is the only revenue-driving source you should aim at. However, more traffic doesn't mean better CTR and SEO. Magento 2 SEO Ultimate solution helps you improve the quality of the traffic and drive only targeted leads from search results. This ultimately improves your website authority and increases click-through-rate value.
Make not only people, but search engines love your store and rank it better in search.
Buy Magento SEO Extension$177.50
SEO Ultimate Pack
Automate your Magento 2 On-Page Search Engine Optimization with our ultimate SEO pack. A combination of 8 SEO tools, this Magento 2 SEO extension has everything you need to optimize your On-Page with best SEO practices and better your search engine rankings with minimum efforts.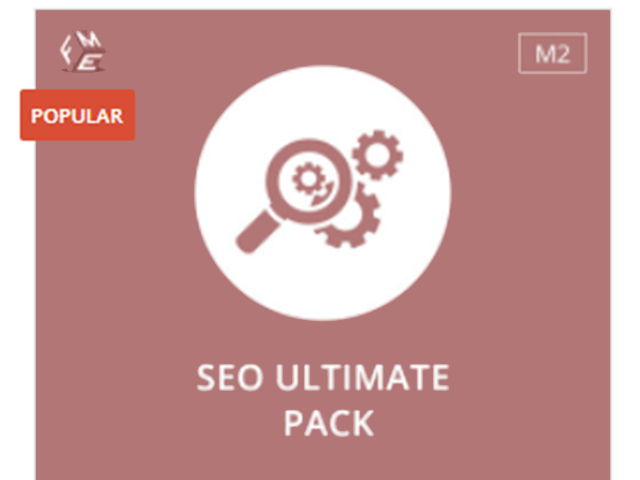 Auto-create SEO Meta Title, Description & Keywords

Generate SEO Optimized Alt Tags for Product Images

Build XML & HTML Sitemaps for Store

Add Extended Google Rich Snippet Tags

Handle Content Language Duplicates with Hreflang Tags

Add No Index No Follow Tags to Any Page

Add Canonical Tags to Prevent Duplication

Auto Generate Internal Links on Product, Category & CMS Pages

Auto Generate SEO Optimized Meta Tags
The Meta tags generator tool of this Magento 2 SEO Suite allows you to automatically generate Meta titles, descriptions, and keywords for products, categories, and CMS pages.
Generate SEO optimized Meta title, description & keywords

Option to generate short & long product descriptions

Utilize attributes & variables to generate unique and optimized Meta tags and descriptions

Generate products and categories specific Meta tags & descriptions

Add SEO Optimized Image Alt Tags
With the Image Alt Tags tool, you can create SEO-optimized Alt Attribute of your product images to increase the relevancy of your image content on search engines. This helps boost your rankings and brings more exposure to your store.
Add SEO-optimized alt tags for product images

Utilize product attributes & custom text to auto generate unique & SEO optimized alt tags

Option to add/update existing images alt text

Option to rewrite image names
Magento 2 SEO Pro Extension
SEO Pro Magento 2 Suite is an extension with numerous splendid features to help your store with better Search Engine Optimization. Magento 2 SEO Extension helps enhance website visibility, traffic, and rankings. It Comes with a Facebook Pixel feature.
Smart toolbar to analyze on-page SEO

Rich snippets in search results

Automated meta tag templates

Facebook pixel to track your user's activity

Generate dynamic HTML & Google XML sitemaps with ease

Check for broken/external/no-follow links from our SEO toolbar

Set long/short or a canonical URL without categories

Redirect 404 to default Magento search/custom search

Generate dynamic meta-tags
Buy Magento SEO Extension$249
Related posts: Activate SSL in Magento | step by step tutorial
Summary
SEO can be difficult and confusing without the right tools. Using any of these tools is great and your website needs SEO optimization, so it is better to choose one of these tools and stick to it.
We introduced 13 of the Best Magento 2 SEO Extensions and hope you find this article useful we have been able to provide you with comprehensive and useful information about Magento SEO Extension.