A backup is like a parachute that saves you in critical situations, and without any exaggeration, no complete CMS has been made so far without data backup. If you are new to the digital world, it may be a little difficult to understand, but by looking at this tutorial you will learn how to back up Magento 2 store.
Magento, like any other complete system, has backup by default but is disabled in the initial installation. In this part of Magento 2 training, we try to teach, how to activate backup in Magento. Of course, we go one step further and introduce a better method.
Related posts: Magento Security Extension
How to Backup Magento 2 Store
Step 1: Log in to the Admin Panel.
Step 2: From the Main Menu, click on Stores and then click on Configuration to enter the Magento settings section.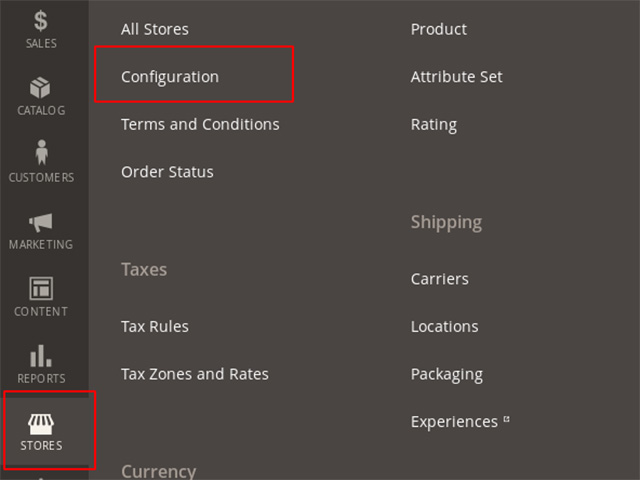 The third step of how to back up the Magento 2 store: In this step, select the System option from the Advanced tab.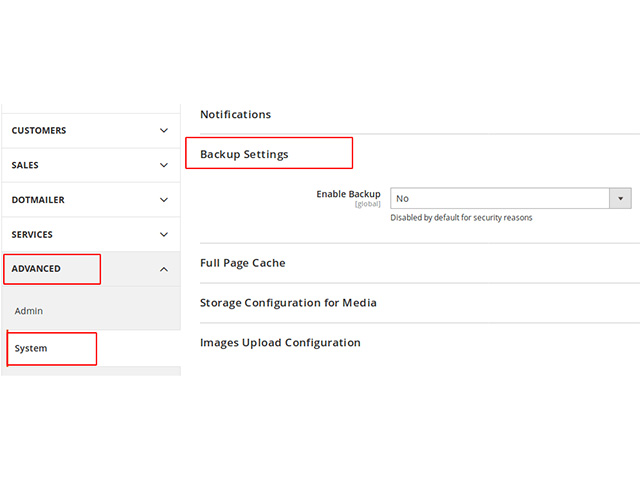 Then click on Backup Settings and set Enable Backup to yes. This also activates the backup scheduling settings and you can schedule backup data.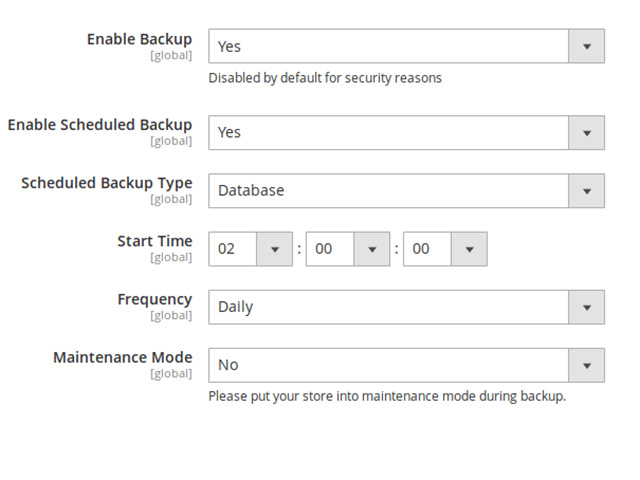 Description of scheduled backup options
Enable Scheduled Backup: As the name implies, this option enables scheduled backup

Scheduled Backup Type: Determines the type of backup. You can only back up the database or media information (product images and videos…).

Start Time: The best time is when the customer is not on the site, such as at 3 am because the process of preparing backup on stores with many products is sometimes very heavy and the server may slow down for a few moments. Also, consider that this time will be set correctly when your server time is having been set correctly.

Frequency: Scheduling, daily, weekly and monthly

Maintenance Mode: If this option is set to yes, a message will be displayed to customers during the backup process and the site will be prevented from loading.
So this was about activating backup in Magento, now where do we see the backup?
Or if we want to manually back up, how should we act?
From the Main Menu, click on the System and then select Backup.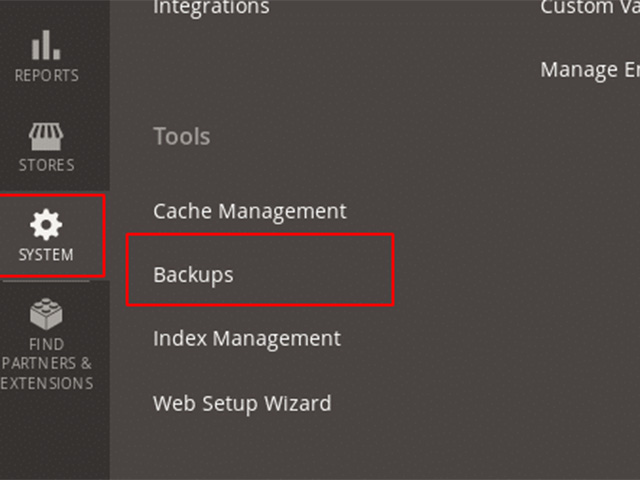 The page below opens.

On this page, we can see the list of the latest backup taken. Also, you can back up the database, media, or system manually.
The backup files are placed in the mg_root / var/backup folder.
Well, we learned how to back up Magento 2 store but professionals are always one step ahead, and they aren't Suffice with Magento backup.
Suppose a hacker enters your server, and either deletes all the backups or manipulates them. So that's may if the backup is restored, the hacker's information will be displayed on your website. What is the solution? You can use the Google Drive script.
This script was written by Google to connect you with your Google Drive by the server and you safely move the files there.