Adobe released the Magento open source 2.4.5 version on August 09, 2022. Now, Magento 2.4.5 is publicly available and contains 290 quality fixes and enhancements.
The Magento update makes it more secure and functional, so Magento 2 merchants can upgrade their stores to the latest Magento 2.4.5 to offer a better on-site shopping experience for their customers.
Magento Open Source 2.4.5 Release Notes
Let's have a glance at the highlights of Magento open source 2.4.5.
Security Enhancements of Magento 2.4.5
The new version of Magento brings 20 security fixes and improvements that we refer to in the following.
Google reCAPTCHA support has been added to the Wish List Sharing, Create New Customer Account, and Gift Card forms.

Inventory template security has been enhanced.

ACL resources have been added to the inventory in Magento 2.4.5.

The MaliciousCode filter has been upgraded.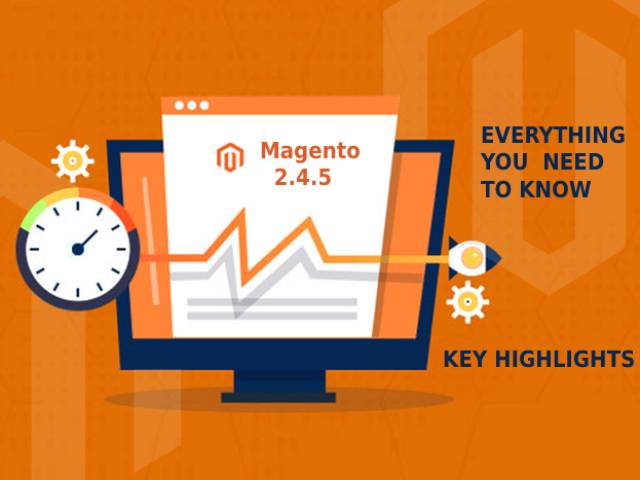 Magento 2.4.5 Platform enhancements
Here are some of the platform enhancements in the latest Magento 2.4.5 release.
Support for Composer 2.2

Support for TinyMCE 5.10.2

Support for jQueryUI 1.13.1

Support for PHPStan 1.5.7

Outdated dependencies have been removed.

The DHL integration schema has been updated from v6.0 to v6.2.

All outdated JS libraries have been upgraded to the latest version.
GraphQL performance enhancements
Here are some of the performance enhancements of GraphQL that come with the Magento 2.4.5 release:
Faster rebuilding of the unified storefront GraphQL schema on deployment or when changing attributes in production.

Faster page load speeds when the GraphQL schema must be rebuilt for any reason.

GraphQL API capability to consume the authorization token expiration date /time.

Session usage has been removed from HTTP header processors in GraphQL.

Allows disabling the session cookies for all GraphQL operations completely.
Magento 2.4.5 Payments
The Adobe team has added new features to payment; these payment enhancements are listed below:
Apple Pay is available for all merchants on the product details page, mini cart, shopping cart, and checkout workflow. They can also toggle on this feature.

Merchants in Spain and Italy can now offer PayPal Pay Later to shoppers.

The preview option for PayPal, Credit and Pay Later buttons is available for admins now.

The "Always request 3DS" option has been added to Braintree payments.

Braintree has discontinued the KOUNT fraud protection integration.
PWA Studio of Magento 2.4.5
Magento Open Source 2.4.5 is compatible with PWA Studio v.12.5.x. Below are the enhancements of PWA Studio v.12.5:
Merchants can now select a service to deploy from the Admin (Google Tag Manager).

Shopper behavior data is now collected on the PWA Studio storefront and will help the merchants with web analytics services.
Magento 2.4.5 Page Builder
Page Builder v.1.7.2 is compatible with Magento 2.4.5. The enhancements to the page builder include:
Users can perform column settings from the storefront.

Column resizing now supports wrapping triggered by user actions.
Related posts: Magento 2.4.4
Magento 2.4.5 Official Release Notes
If you would like to find more information about Magento 2.4.5, you can check out the resources linked below.
To conclude
One of the best ways to have a secure and enhanced Magento store is to upgrade your online store to the new Magento Commerce and Magento Open Source 2.4.5 versions.
Magento 2.4.5 is here with the most important features and highlights in terms of platform performance, quality, payment enhancement, caching, and more. Start upgrading your store to be the first one in competition with other Magento store owners. Enjoy the most secure, fastest, and improved version of Magento 2.
Wegento is here to help you upgrade your Magento store successfully. Feel free to share any customization needs.
Please share this post with other Magento developers and merchants.
Thanks for reading.
Magento 2.4.5 is the latest version that offers a unique shopping experience to your customers at the Magento 2 eCommerce store. You can refer to this article to download Magento 2.4.5.
The first public beta version of Magento was released on August 31, 2007, and with every release of Magento, it has become more complete every time. It's unclear when the new version will come, but we are sure it will come because Magento is in progress. Now Magento 2.4.5 is available as the latest version.