With appeared  Magento 2 in 2015, a new era of e-commerce innovation began. The release of the new version of Magento 2 has created new opportunities for online businesses, as many creative and incredible features are included in this version so migration from Magento 1 to Magento 2 is necessary for everyone. 
It's very affordable for you to upgrade your current Magento site to the latest version. To transfer the site Magento 1 to 2 migration, you need the knowledge to transfer customer data, order history, and accounts together.
Features of Magento 2 version
All versions of Magento 2 offer a set of advanced features to improve user-friendliness and site security. Magento 2 version has the full-page caching capability so retains full-page information, and prevents the site from slowing down with high site requests.
Related posts: The difference between Magento and WooCommerce
This means that when you visit a website, the files on that page, such as HTML files, site images, CSS, and Javascript are stored in the browser cache.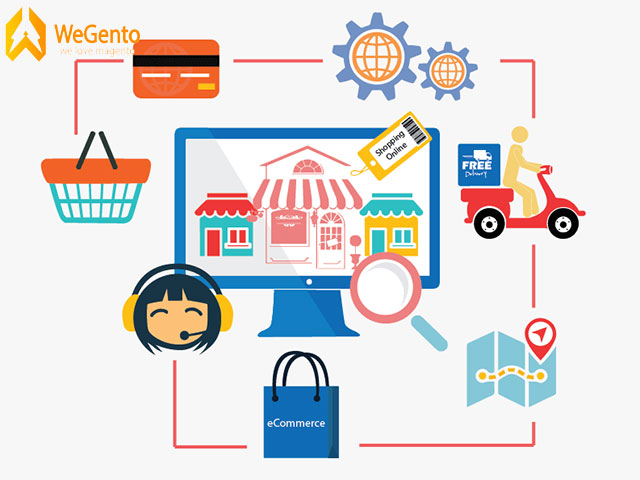 Next time, when you enter the same site or you want to see the same site again with the back button, the site loads quickly; but if a site does not have a full-page caching feature, it must download the information from the server again. This issue can cause consume more bandwidth and time to re-download information.
Related posts: What is Magento?
In Magento 2 version, the performance of the admin panel is improved and managers can have more control in the field of management. This feature of Magento 2 helps you in managing customers.
Magento 2 In addition to HTML5, CSS3 also contains the latest version of PHP. The installation process of Magento 2 is simple and also has user-friendly customization, and you can easily change the appearance of your site according to your taste.
Related posts:  how to change the favicon in Magento 2
What features can Magento 2 add to your store?
1. Huge list of powerful extensions that are constantly being improved
These extensions help to improve and grow your site a lot, and in the following cases, Magento 2 version has become very powerful.
Accounting and Finance

Customer support

Marketing

Payments and security

Transportation

Site optimization
So you will find everything that an online store needs in Magento 2.
2- Strong coding structure with regular updates
One of the most notable updates for Magento 2 is the amount of integration that has been done to encrypt the system. This version uses HTML5 and CSS3, JavaScript, the new version of PHP, and MYSQL 5.6.
Related posts: Learning to create simple products in Magento 2
3- Simple and user-friendly management panel
In Magento 1, working with the admin panel was very difficult, but in the new version, working with the admin panel is very simple and everyone is satisfied with it, and the manager can easily access management sections, including customer management, and orders.
In Magento 1, managers had to spend a lot of time learning the admin panel section, and they still had problems, but in Magento 2 system, due to having many features, working with it has become very easy.
4- The migration of Magento makes a convenient shopping experience for the customer
Don't forget that Magento's purpose is to create an e-commerce experience that increases your revenue.
One of the most important changes is to change customers' accounts so that they can have a comfortable shopping experience with less hassle and easily add products to the shopping cart for the customer.
5- Better security by migrating the Magento
Store sites have a lot of customer information, including credit cards; and hackers love such sites. In the online stores designed by Magento 2, site security is much more, and this is one of the most important features of Magento 2.
Magento 2 includes an automated update that keeps systems up to date and protects your site from vulnerabilities caused by malicious code and hackers.
To summary
By migrating from Magento 1 to Magento 2, you can enjoy many up-to-date features of Magento 2, as well as increase the security of your site and make the shopping experience easier for your customers to become your loyal customers;
but at the same time, Magento 1 to 2 migration your site requires expertise and experience. If you do not have this expertise or experience, our specialists are ready to transfer your site.