Once you use the Magento 2 platform for your online store, one of the first things you might want to do is change the default Magento 2 logo in the header or upload a new Favicon. In the previous tutorial, we discussed changing the Favicon, I hope this tutorial about how to change the logo in Magento 2 will help you customize the store.
Uploading your personal logo will make your store more professional and secure from the customer's point of view. In particular, the business logo helps you to increase your brand awareness significantly. You can also update the copyright text in a footnote.
Related posts: How to Create Order Status in Magento 2
These are just a few designs works that you can do in a short time. Also, while your store is editing or upgrading, you can turn on the store demo message and delete it when it is ready to launch.
To change the logo in Magento, you need to do the following steps:
Step 1: Upload your logo.

Step 2: Load the logo on the front of the store

Step 3: Check the result
Step 1: Upload your logo.
The size and location of the logo in the header are determined by the subject of the store. Your logo can be saved in GIF, PNG, JPG, or SVG formats and uploaded through your store admin panel. The default logo format in Magento is SVG.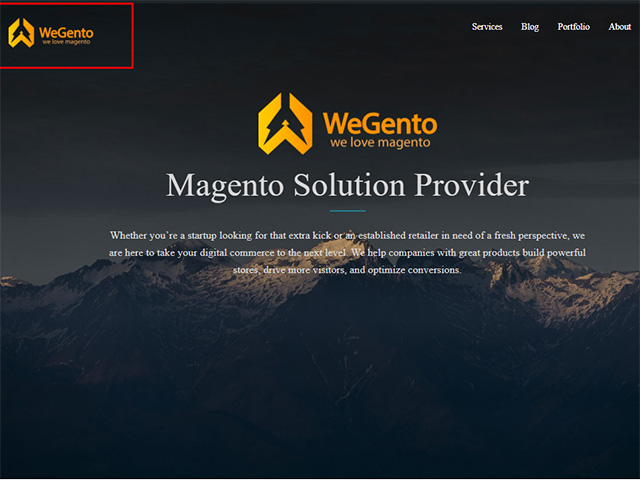 The logo image is located on the server at the following address. Any other image file with this name and in this place will be used as your store logo.
app / design / frontend / [vendor] / [theme] /web/images/logo.SVG
If you don't know the size of the logo or other image used in your template, right-click on the page that opens in your browser, check it through Inspect Element.
In addition to using the logo for the header, you also use this logo for emails, invoices, and sales documents, which require different sizes of this logo and must be loaded separately.
Step 2: Upload the frontend logo in Magento 2
In step 2, to change the logo in Magento:
Go to the admin panel > Content > Configuration > Select Your Current Theme > Header

Then do the following:
Click on the Upload button to upload a new logo. Then select the file from your computer.
Enter the width and height of your logo.
In the Logo Image Alt section, enter the text that you want to appear when the mouse is over the image.
For the Welcome Text field, enter a custom welcome text for your landing page in the store.
Step 3 Change the logo in Magento: Check the result
When done, click Save Config.